Новини
Дебатна Академія
 » 
Новини

Vilnius Open 08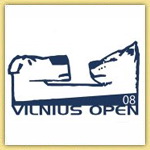 We're glad to announce that on November 21 - 23, 2008 in MRU
university in Vilnius debate tournament "Vilnius Open 08" will take
place.
And this is the place, where YOU want to be, because:
We have amazing adjudication team:
Chief Adjudicator – Dereck Lande
Deputy Chief Adjudicator - G. Rhydian Morgan
Further introduction is not needed, because names of these gentlemen speak for themselves.
WINNERS OF THIS TOURNAMENT WILL BE AWARDED 500 €!!!
On the socials we will visit the bestest clubs in Vilnius, where you
will be able to enjoy loads of free booze and awesome company!
You'll live in the centre of Vilnius, the pearl of Baltic culture,
with beautiful view and wild places to go!
The tournament will be held in British Parliamentary style.
Language – English.
Team cap – 32 teams.
Participation fee is €30 per debater, and €20 per judge. Participants are provided with accommodation, food and transportation.
N-1 rule is applied in this tournament.
During the three days of the Tournament participants will be able to enjoy 5 preliminary, semi-final and final rounds, training on rules,
unforgetable parties, the best beer in Europe (don't take this for
granted – try yourself) and trip around the city's most visitable
places. But the most important thing – all this time YOU will be
surrounded by people like YOU!
Will you dear to miss it?
Registration is open! Fill in the aplication you will find in web page
www.mru-debate.eu
and send it to
vilniusopen08@gmail.com
Registration will be closed at 2008 11 15
If you have any questions please feel free to contact us:
vice-president@mru-debate.eu
justina@mru-debate.eu
_______________________________________________
TRAVELLING:

There are three airports in Lithuania - VILNIUS, KAUNAS AND PALANGA - from any of these you could easily reach the place of tournament in
VILNIUS.
If you are going to use RYANAIR airlines, choose the destination
KAUNAS. Kaunas is only 100km away from Vilnius and it is both easy and cheap to reach the capital city by train or bus.
We also highly recommend to have a look at airbaltic or flylal
airlines websites for cheaper flight tickets as they often make sales.
It is also possible to fly to RIGA airport. However, you should take
into consideration 4-5 extra hours which take to get to Vilnius by
bus.
Check these links for cheaper flights:
www.ryanair.com
www.airbaltic.com
www.flylal.com
If you need any help to get flight/bus/train tickets or learn about
bus/train schedule, please do not hesitate to contact Justina,
justina@mru-debate.eu
We will help you to find the best option for you to come here!
VISAS: For all matters concernig visas feel free to contact our
responsible member Rapolas:
vice-president@mru-debate.eu
_______________________________________________
Schedule of the tournament:

2008 11 21(Friday)

09.00 – 15.00 Registration
15.00 – 15.30 Opening ceremony of the even and general information for
participants.
15.30 – 17.00 1st Round.
17.00 – 18.30 2nd Round.
18.30 – 20.00 3rd Round.
20.00 – 20.30 Dinner.
20.30 – Departure to hotel.
21.30 – … Party time.
2008 11 22 (Saturday)

09.00 – 12.00 Reregistration.
12.00 – 13.30 4th Round.
13.30 – 15.00 5th Round.
15.00 – 16.00 Lunch.
16.00 – 17.30 Semifinals.
17.30 – 18.00 Brake time.
18.00 - 18.15 Announcement of the finalists.
18.15 – 19.30 Final Round.
19.30 – 20.30 Closing ceremony of the event, announcement of winners,
dinner.
20.30 – 21.00 Debarture to hotel.
21.30 – 22.30 Trip to social .
22.30 – Closing party.
2008 11 23 (Sunday)

09.00 – 11.00 Breakfast.
11.00 – 13.00 Tour to the most beautiful places of Vilnius.
13.00 – Departure of partisipants.

fj1v1F cgfhomxyzfuy, [url=http://hebqrlnqlgxo.com/]hebqrlnqlgxo[/url], [link=http://fmqawsaxoaml.com/]fmqawsaxoaml[/link], http://eycuybmmpuht.com/